<![CDATA[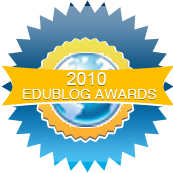 A hard choice since I follow so many great bloggers – but a choice had to be made and here are my nominations for the Edublog Awards 2010
Best individual blog Scott Thornbury' Blog An A-Z of ELT for generating some of the richest and greatest discussions in the blogosphere and for changing the role of blogs into a shared exchange of ideas on teaching and learning.
Best individual tweeter I am going to nominate someone whose tweets I always look forward to and who always shares valuable resources, a great smile and her amazing voice when the opportunity arises! That person is Sue Lyon Jones or @esolcourses – http://twitter.com/esolcourses on Twitter.
Best group blog This year, I would like to nominate Digital Play, a great blog written by Graham Stanley and Kyle Mawer. I am not very good at most of the games they highlight, but I find their lesson plans and ideas absolutely fabulous!!! The pedagody behind them is very strong and, well, I think it's just a great resource.
Best new blog Emma Herrod's new blog fits the bill of best new kid on the block for me.. It's got a great look and great posts and an attitude all its own 🙂
Best resource sharing blog Robert Byrne's Free Technology for Teachers is my choice this year – there is so much to learn from this blog I just don't have enough hours in the day to go through it all
Most influential tweet / series of tweets / tweet based discussion #ELTchat
Best teacher blog A prolific blogger I admire very much; he is not afraid to have his say and he shares great ideas and free materials. That is Jason Renshaw and his English Raven Blog
Best educational tech support blog This one must go (as far as I am concerned) to Nik Peachey and his great blogs: I will choose his Learning Technology Blog
Best educational use of audio For this category I shall choose the great podcasts produced by Randall's ESL Cyber Listening Lab a great collection of lessons easy to use and divided by level – I suggest it to all my trainees
Best educational use of video / visual Teacher Training Videos created by Russell Stannard

for all the great videos he shares and the free tutorials which make difficult tools look very easy

Best educational wiki http://biz-e-tech-training.pbworks.com/w/page/5929154/FrontPage maintained by members of BESIG and, notably, Carl Dowse. It's a great resource for BE and not only!
Best educational podcast #ELTchat podcasts every week published on http://eltchat.com/
Best educational webinar series The 3rd Virtual Round Table is the best collection of webinar series and it's a great and joyous event shared by many educators – thanks to Heike Philps and all the co-roganizers.
Best educational use of a social network EFL Classroom 2.o must be one of the richest and friendliest to teachers nings for communicating and resource sharing – thanks to David Deublebeiss
Best educational use of a virtual world SLanguages 2010 is a great annual virtual conference in Second Life and this year it was carried off with great finesse and featured some excellent talks and experiences of learning languages in a Virtual World
Lifetime achievement David Crystal who blogs at DCBLOG and who always makes me think about language in a new way; his writings clarify and his thinking is always fresh and unbiased by academia, although I consider him one of the top scholars of our time.
Best of luck to all my nominees !]]>