<![CDATA[I was first tagged by Doug Peterson and did my first post here but then Maria Theologidou tagged me again with a fresh set of questions.
Photo Credit: SnaPsi Сталкер via Compfight
Normally, I would have thought, this is quite enough – but the whole ELT blogosphere has been having a blast tagging one another and even those who claim this is rubbish and are doing it, albeit claiming great reluctanc,e are having (we are all having, I should correct myself) a grand time.
There is a time to be serious and a time to play and this just as good a place as anywhere to be playful.
The other reason, is that I was very pleased to discover Maria's  blog so it's a good opportunity for you to pop over there and have a look!! Plus, she is Greek and I am really happy to see Greet ELT teacher bloggers in the blogosphere 🙂
Apologies if anyone else has tagged me – but you know the rules state you have to let the blogger know in some way 🙂
Maria's 11 Questions and my answers
1. How has your job changed the way you perceive the world?
 Good question!!! In the beginning….(drum roll), …. In the beginning, I used to look at everything and think thoughts like "Oh, I could use this to teach X or Y". Well, the sad fact is that I still do that pretty much but not quite with the same intensity.  So I guess you could say, my perception changed to that of the world being a tool for teaching. On a more serious note though, and over time, I have got to feel more and more responsibility on my shoulders about the things that we teachers (and teacher educators) and how deeply they can affect people's emotions, dreams and, well, in some cases, quite simply, their lives.
2.What is the most valuable lesson your students have taught you?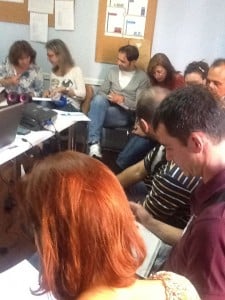 My students have taught me to take nothing for granted; everything can be questioned; there is no holy grail and we are all on a learning journey together. Sometimes it's the teacher that's doing more learning, but my trainees, sadly, don't believe me and think I am just saying this to boost their confidence.
3. Which is one mistake you've never learnt from and continue making?
Oh, this is getting real personal and I don't think I want to share private knowledge of how it happens that you put me in a room with one hundred men and I will always home in on the one who will cause me the most misery….
4. If you could turn back time, which era would you like to live in and why?
I really don't want to go back in time but, on occasion and lulled by false images on television or film, I think I might want to live in Athens in classical times but not as a woman; as a man certainly. But the truth is that if I could choose a different era, I would like to have been born either a few years ago or some time in the future, preferably when interstellar travel is a common activity.
5. Who was your childhood hero?
My childhood hero was Captain James Kirk of Star Trek – "To boldly go where no man has gone before" is the split infinitive that had me dreaming of the wonderful things I was destined to do – all preferably having to do with interstellar travel and discovering new worlds
6. What's the best conference you've ever attended?

  
The best conference for me, overall, so far has been BrazTESOL in Rio de Janeiro, for city, people and quality of presentations as well as the wonderful socializing (and the food and clubbing…. Ah…those caipirinhas with kinshasa are etched in my memory thanks to the wonderful Carla Arena who invited me to be part of the preconference Edutech SIG). And the wild dancing!!!  I loved the way Brazilians, all of them without exception, threw themselves into the fun – I am getting kind of bored of seeing people going to clubs and posing with a drink in their hand…. Ugh!!
But I must admit that the one conference that always stands out in my mind is my first IATEFL conference in Harrogate in 2010 – which when I first met many of the member of my online PLN in the flesh!!! It was such a heady experience that first great tweet-up; Jeremy Harmer called it a love-in; we were all hugging each other in such great delight it was amazing. I recommend this first experience highly, though by now I am guessing many people have got kind of blasé about this stuff.
7. What do you think is the most demanding level to teach and why?
I think teaching low level/beginner young or very young learners is the most demanding – when I prepare to teach a very young class, I always take more time, design more activities, images, games, objects, as I find I have to change activity or focus every few minutes or so. Compared to that, I recall teaching Proficiency classes or Business classes with great nostalgia !
8. What is one thing you always put off doing?
Washing up! I hate it with a passion and I tend to procrastinate and put it off by doing other things which are always, of course, more important!
9. What kind of coffee do you prefer?
I really like filter coffee with vanilla flavor or a good looong cappuccino 🙂
 
10. If you were a super hero who would you be and why?
I wouldn't like to be a particular hero, but I would like to have the powers of some!!!  I would of course like to be able to fly, to travel in time, transport instantly to different places, including other planets and galaxies … I could go on!!!!
In the absence of all these abilities, I settle for instant teleporting in Second Life!!!  Here is a very short machinima (a video in Second Life) to show you how quickly I can do it there !!!
[youtube=://www.youtube.com/watch?v=G_kw2gHdjso&w=300&h=169]
11. If your life had a soundtrack, what songs would be on it?
There would be a lot of jazz tracks including Round Midnight, Laura,  – I would like to also include the soundtrack of Space Odyssey 2001 and especially the opening theme  but my life is not that grand to merit such grand  sounds. Every breath you take would be on it and Love me like a man because they hold memories – a soundtrack should have lots of memories on it, don't you think? Certainly it would include Annie Lennox, or rather the Eurythmics – There Must Be An Angel (Playing With My Heart) because, secretly, I always wished I had Annie Lennox's vocal talent, musicianship and outstanding good looks!!!
From the film Diva, I would choose  the Sentimental Walk  and some favourite arias sung by Maria Kallas – for my own soundtrack, I would choose an aria from the opera La Wally,  her unsurpassed Casta Diva 
I also want to include another great Greek voice, Mario Frangoulis and his rendition of  Vinceró Perderó . He is also totally georgeous!!!!
I could go on forever, but I sense you might be getting tired of my long list, so I will finish with a track which I adore and that's because Kate Bush is one of the most important songwriters and music makers of my generation – here she sings with another major musician/singer Peter Gabriel Don't Give up which is my mantra.
Don't give up no matter what. Life is too short to miss out on all the good things around us.
Well, that covers it I hope – I won't be tagging anyone in this post as I did that already in my original post which has come right back to me 🙂
Thank you Maria and have great fun teaching, learning, blogging and connecting!
Don't give up cause you have friends
Enjoy the music
| | |
| --- | --- |
| [youtube=://www.youtube.com/watch?v=TMUsrY-ED0A&w=300&h=169] | [youtube=://www.youtube.com/watch?v=reaGKcwp1nI&w=300&h=169] |
| [youtube=://www.youtube.com/watch?v=DEaDj6TXiQQ&w=300&h=225] | [youtube=://www.youtube.com/watch?v=SLuW-GBaJ8k&w=300&h=225] |
| [youtube=://www.youtube.com/watch?v=OMOGaugKpzs&w=300&h=225] | [youtube=://www.youtube.com/watch?v=lN_8qFinDBM&w=300&h=225] |
| [youtube=://www.youtube.com/watch?v=uIOifQrFtmU&w=300&h=225] | [youtube=://www.youtube.com/watch?v=TlGXDy5xFlw&w=300&h=225] |
| [youtube=://www.youtube.com/watch?v=lV0i6Tpfxm0&w=300&h=225] | [youtube=://www.youtube.com/watch?v=VjEq-r2agqc&w=300&h=225] |
]]>