<![CDATA[
It doesn't happen to anyone any faster than it has happened to me!
I created a Twitter account last December during the riots in Athens. I learnt about hashtags and and about finding out and sending news very quickly but as an educator I didn't really start using it till May.
This was also the time when I heard about Slanguages 2009 and within two days of finding out, I had downloaded Second Life, created my first avatar and was attending my fist conference in a virtual environment!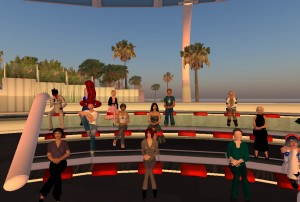 My first blog post appeared  in July of this year, and coincidentally, both my first and my second blog post were about Twitter.
I started blogging rather reluctantly, in awe of all the great bloggers I was meeting on Twitter and reading every day! The encouragement I received from these experienced bloggers was a revelation but more than that, I was thrilled by the interaction and the learning that was coming my way.
Up to that point, I was used to being the source of information for my trainees, and even on Facebook where I maintain three or four groups hoping to encourage their members to share and interact with each other, the silence and expectation that I should do it all was sometimes deafening!
Suddenly, everyone I was meeting on Twitter was interested in what everyone else was writing and keen to comment, add and contribute.
For this great group of educators I am truly grateful – they treated me with patience and egged me on, especially great bloggers like Nergiz Kern, who was one of my first Twitter friends as well as Karenne Sylvester who was also instrumental in getting me started.
My Thanks !
For my nominations, I would like to express my public thanks to the following fellow twitterers and bloggers:
Karenne Sylvester, who not only nominated me but who also inspired me, edited drafts and helped my clarify my thinking when I was writing the post nominated as "Most Influential", on How to Become a Teacher Educator.
Shelly Terrell for her Best new blog nomination – she's up for three or four nominations herself, a great teacher, tweeter and all that in the best sunny packaging imaginable.
Burcu Akyol for her Best New Blog nomination. Burcu's own blog is also well-deservedly in the list of nominations and she has been a great inspiration to those teachers who want to get their classes to blog! A great twitterer, too, and sharer!
Ozge Karaoglu for Best New Blog nomination. Ozge's blog and Wiki (which was in my nominations) are a source of constant delight at the information she puts out and visual pleasure!
Anne Hodgson for her nomination for Best Teacher Blog. Even though I have not been nominated in that category, I do so treasure the label she put on me in that nomination post and this comment: "You're the head EFL teacher I've always wanted to have. Full stop. 🙂 "
Barbara Sakamoto for her Best New Blog nomination for which she is also a nominee. Visit her blog and read the great stories of teachers from around the world.
Janet Bianchini for my Most Influential blog post nomination and for the great comments she put in that particular post. I simply adored her xtranormal introduction to the nominations which ends with these important words" They were all equal and worthy candidates"
Eva Büyüksimkeşyan who saw something in my tweets (!) for her nomination as best tweeter for 2009.
It's very easy to thank them all for this great honour – after all, they aren't than many !!!
The voting has started
This is not a political campaign to start rallying and asking people to vote! It takes time to read all the blogs in the nominations. But I do want to say this:
My nominations do mean a lot to me and although it is only human to want to win, I recognize so many great bloggers, posts and tweeters in the same nominations, I know that I will not be disappointed if I don't – it's an unexpected joy to be a nominee anyway.
It's also a great and thrilling adventure to be considered worthy even of being nominated in waters outside one's own home, country, town. Getting some recognition from my peers in a more international context is wildly exciting and thank you to all who made this possible!
I am flying!  On a Greek Pegasus!


P.S. The person sitting next to me in the Second Life snapshot is Carol Rainbow who was in my nominations list for her great resource blog.  At that time, I did not know her but today, I am proud to have her amongst my friends.]]>