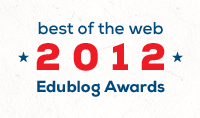 Here are our nominations for the Edublogs Awards 2012.

Best individual blog

Tony Gurr's Blog All Things Learning – because he worries about his posts and I like the way he thinks about teaching and learning 

Best individual tweeter
Shellt Terrell @ShellTerrell because she always tweets great content and is a great educator besides
Best group blog


www.eltchat.org  It's a blog maintained by its moderators but the content is co-created through the conversations of dozens of twitter teachers which are then
written up into summaries by a wonderful collection of ELT bloggers!!


Best edtech / resource sharing blog

Nik Peachey's Quick Shout Blog  because he makes edtech look so easy to use

Best twitter hashtag


#ELTchat because it connects hundreds of ELT teachers every week on Twitter and keeps contributing to their development in a free and autonomous way; because it has created a PLN which is supportive and shares knowledge in a connected world. 


Best New Blog


Carol Goodey's New Blog because it's the blog of a reflective teacher


Best teacher blog

Box of Chocolates –
Cecilia Lemos' blog; because she reflects so well on her teaching and uses
her blog to become an outstanding teacher.

Best free web tool


At the time of writing this post, I am finding great value in curation tools; my favourite this year is Pinterest. 


Best open PD / unconference / webinar series


BESIG online webinars  


Best educational use of a social network


The aPLaNet Project Ning  because it provides a meeting
point for teacher who mentor other teachers in the use of social networking tools for education.